The holiday season is upon us, and what better time then now to cozy up to a warm fireplace with a good book.
Here are our top 14 fireplace reads from the Antedote library that have inspired us and our work.
Books for Inspiration

How to Get Ideas by Jack Foster
Easy, fun read with practical tips on how to get inspired and unstuck.

1001 Extra/Ordinary Objects by Oliviero Toscani
Somebody's ordinary is always somebody else's extraordinary. Open any page and go on a cultural journey through the world of "stuff".

Lovemarks by Kevin Roberts
Beautifully laid out with inspiring brand stories behind the legends that consumers have irrational emotional connections with.

Home – A Short History of an Idea by Witold Rybczynski
How has societal changes influenced the idea of home, specifically around the concept of privacy and comfort? It's important to look back at the history of why things are the way they are in order to get the fuller picture of how our current culture is shaping these ideas.

The Method Method: Seven Obsessions That Helped Our Scrappy Start-up Turn an Industry Upside Down by Eric Ryan, Adam Lowry, Lucas Conley
Making business and innovation strategy more accessible.

Steal Like an Artist: 10 Things Nobody Told You About Being Creative by Austin Kleon
Innovation starts from stealing.

Made to Stick: Why Some Ideas Survive and Others Die by Chip and Dan Heath
Ideas stick if they are Simple, Unexpected, Concrete, Credible, Emotional, and are Stories.

Little Prince by Antoine de Saint-Exupéry
Even a picture of a hat could really be a boa constrictor who's eaten an elephant…if only we look at it with a different perspective.

Lean Startup by Eric Ries
Growing a successful competitive business it about efficiently learning what your customers will buy. The Lean Startup delivers a compelling recipe with fantastic ideas for shortcuts.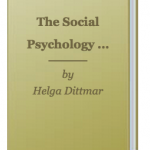 The Social Psychology of Material Possessions – To Have is to Be by Helga Dittmar
Stuff…. Without it you're nothing.

Steve Jobs by Walter Isaacson
The full inspirational story of the life, character, obsessions and decisions of the man that created and resurrected one of the world's most innovative companies.

Green Eggs and Ham by Dr. Seuss
Whatever you face in life, whatever you fears or expectations – JUST TRY IT!

Abundance – The Future is Better Than You Think by Peter Diamandis
A really inspiring and positive take on the future and how innovation can step in and create that better future.

Ogilvy on Advertising by David Ogilvy
A classic and entertaining read on how to sell the idea from the undisputed grandfather of advertising.